On September 1, 2023, Zhang Yu, an international trade After-sales engineer from HANGZHOU IECHO SCIENCE & TECHNOLOGY CO., LTD., jointly installed the IECHO cutting machine GLSC with local engineers at Hongjin (Cambodia) Clothing Co., Ltd.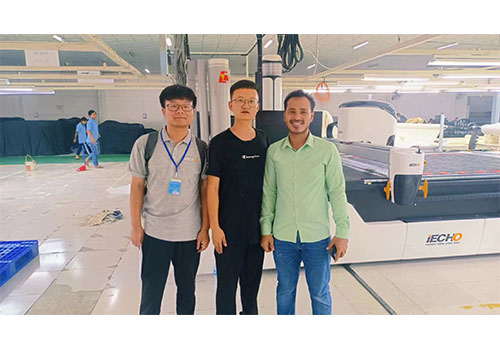 HANGZHOU IECHO SCIENCE & TECHNOLOGY CO., LTD. provides customized services to customers with different needs.
Through the continuous practice of a research and development team that integrates software, internet, electrical control, and mechanical devices, the company had developed multiple high-speed digital cutting systems, fully automatic multi-layer cutting systems, fully automatic leather cutting systems, and have received high praise from the market.
At present, the product is widely used in China, as well as more than 60 countries in Southeast Asia, Europe, Africa, and the Americas.
The machine installed on site is the CLSC automatic multi-ply cutting system , which adopts a brand new vacuum chamber design, has a brand new intelligent grinding system, fully automatic continuous cutting function, and the latest cutting motion control system.
It achieves cutting while feeding .No human intervention is required during cutting and feeding.
 According to different cutting conditions, the cutting speed can be automatically adjusted to improve the cutting efficiency while ensuring the quality of the pieces.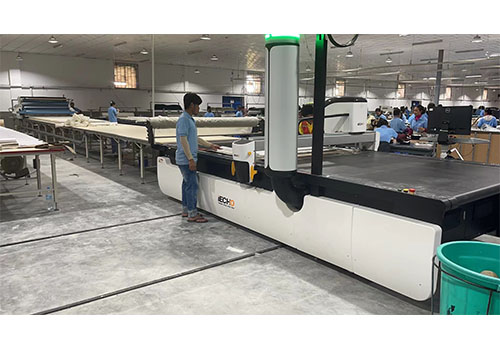 Its maximum cutting speed is 60m/min, and the maximum cutting thickness after adsorption is 90mm. The maximum speed of the high-frequency vibration knife can reach 6000 rmp/min. It can be applied to industries such as automotive interior, aerospace, composite materials, soft home furnishings, textile and clothing, medical supplies, leather footwear, outdoor products, etc.
The successful installation of this CLSC cutting machine provides strong support for its production. Once again, wishing both parties a pleasant cooperation and a win-win situation!
---
Post time: Sep-06-2023